Setting up a website needn't be intimidating or costly. Don't let a fancy advertising or web agency tell you otherwise.
You can have a good-looking website with compelling copy, that gets you on the first page of the search engines, without spending a fortune.
---
"I was up until 3 AM building a website that is broken!"

VF Cleaning Services is a home and business cleaning service in the Valley Forge area of Pennsylvania.
The owner had good ideas for the look and feel of his site and had built a prototype site using FrontPage. Sadly, it rendered badly in different browsers, his contact form disappeared into the digital ether,  and fixing the site was taking too much mental energy away from his business. Also, his site was not ranking highly with the search engines in spite of the promises of his former hosting company who had sold him a package that 'guaranteed' certain results.
I built the company's website on the WordPress platform with a fully-customized theme that incorporated existing logos, graphics and design ideas. I improved his SEO tactics, added Google Analytics and contact forms. We set up a program for boosting his rankings in the search engines and set up an opt-in mailing list to allow him to communicate with clients and prospects.
---
Being an expert doesn't always guarantee you can explain yourself in writing.
---
Attolon Partners LLC was a new recruiting firm, focusing on high-level financial appointments. The principals are experts in finance, recruiting and networking, but they knew they needed help with their copy.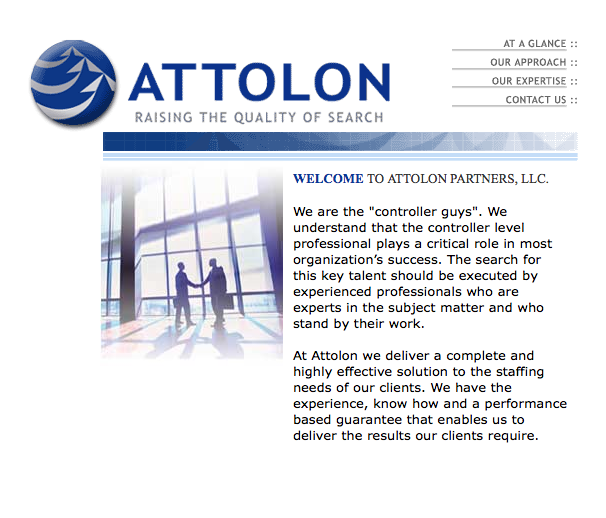 Goal: The partners were clear about how to differentiate themselves from other recruitment firms. They needed  a website that would communicate these advantages to their growing network of contacts.
Result: Based on our conversations, material they supplied, and my understanding of the tone their clients expected, I created website content for their entire site. I imposed a structure that kept the landing page to one screen, but provided easily-accessible information on subsequent pages. These pages highlighted the benefits of choosing Attolon and set potential clients at ease by walking through the process of working with Attolon. I crafted professional bios for the founders that were more than simple resumes and would highlight their skills.
---
"I should be teaching karate. I don't need to be learning about websites!"
Master Phelan's Phoenix Karate is a community-based karate school in historic downtown Phoenixville, PA.
Goal: The owner prides himself on being part of the revitalized downtown community and wanted a website that helped his community of students and families to keep connected. He had no web presence before this and his business showed up in directory listings, still showing the previous address.
What I Did:
Found and registered the domain
Obtained hosting
Installed and customized a WordPress-based website
Integrated a Google calendar of classes
Set up a  mailing list and contact forms
Set up sign-up forms and Paypal buttons
Contracted with a designer to create a new headline banner that included existing art
Interviewed the owner and created SEO (search engine optimized) content for all pages, including class descriptions and 'about' pages
Write ongoing blog posts and a bi-weekly newsletter to inform the families about news. The newsletter broadens the marketing efforts of the school, as new subscribers sign up. It also reminds the families to use to the site for information. Regular, keyword-rich updates to the site also help with search engine rankings
Results: Within a month, the owner was reporting increased phone calls from prospective families, who mentioned the website as a factor in their decision to call him. His site is now the top hit for people searching for karate schools in Phoenixville.
The site allows current students to keep up with news and announcements via a headline section on the front page (pulled from the blog section), or to check class schedules on the integrated Google calendar. During the snowstorms of 2010 the non-tech-savvy owner could easily update the school's status on the front page (as easily as updating a Facebook status).
The owner can highlight key offerings, such as his after-school care program and summer camps, allowing him to market to both existing clients and new prospects at no extra cost. He also offers advertising spots to local businesses and partners, generating both community and an affiliate revenue stream.