Xlibris Corporation – Trifold Brochure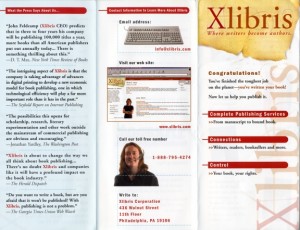 Goal: To create a small, physical leave-behind piece for use at conferences. Less comprehensive than their main marketing materials, it should say enough to prompt their potential customers to call and request more information.
Result: Xlibris was able to reach more potential clients while cutting the cost of print marketing, by sending their more expensive, multi-page brochure only to self-qualified prospects.
---
Xlibris Corporation – Trifold Insert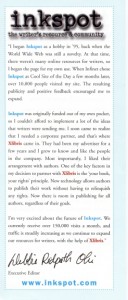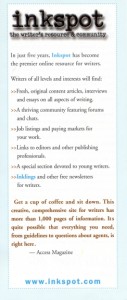 Goal: To highlight the company's online community while maintaining the community's sense of 'editorial independence' from the corporation's sales side. We created an insert for the trifold brochure, with a distinctly separate 'look and feel'.
Result: The community's staff could take the insert to conferences to promote their part of the business. The coporate staff could combine the two pieces. Potential clients could see the value added by the online community, and trust that the information they received through it was not a sales pitch.
---
Net-Thing Sales Letter
Goal: My client's business offered a number of different services. Most of their customers, however, only knew one arm of their business.
Result: This simple letter suited the peronal style prized by the owner of both businesses. It introduced his insurance-business clients to his new digital services company, reassuring them that this was a company they already knew and trusted. The accompanying coupon sheet offered them discounts on their first order – and a compelling reason to buy now.
Net-Thing was extremely happy with the take-up rate.
I also worked with the principals of Net-Thing to define their message, tone, and points of differentiation from their competitors; wrote and designed the letter.