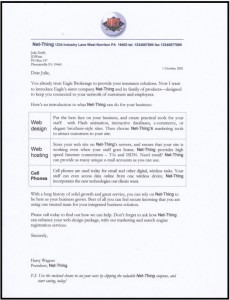 Net-Thing Sales Letter
Goal: My client's business offered a number of different services. Most of their customers, however, only knew one arm of their business.
Result: This simple letter suited the peronal style prized by the owner of both businesses. It introduced his insurance-business clients to his new digital services company, reassuring them that this was a company they already knew and trusted. The accompanying coupon sheet offered them discounts on their first order – and a compelling reason to buy now.
Net-Thing was extremely happy with the take-up rate.
I also worked with the principals of Net-Thing to define their message, tone, and points of differentiation from their competitors; wrote and designed the letter.